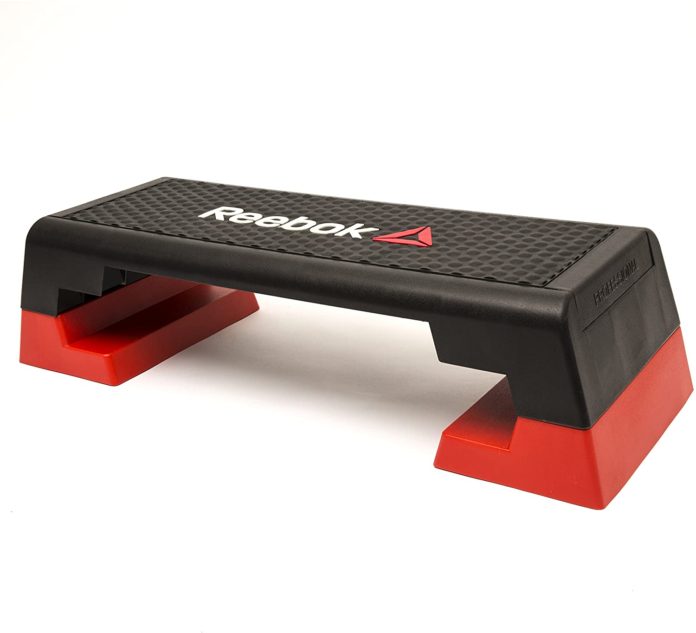 An aerobic stepper is an elevated platform that is used for different aerobic exercises. Most fitness enthusiasts have used this tool at some point of time during their fitness journey. Its height can be adjusted by adding or removing risers so that one has an effective workout depending on the fitness level.
Step aerobics has all the benefits of a high-intensity cardio workout without putting too much stress on your joints. It can help one achieve their fitness goals through building strength , reducing fat, and boosting their cardiovascular health. It has also proven to be quiet effective in burning calories which makes it ideal for maintaining ones target body weight.
With a host of aerobic steppers that have flooded the market today, choosing the best aerobic step bench can be a hard nut to crack especially for beginners.
Here are our tips and recommendations on picking your ideal aerobic stepper:
First, select an aerobic stepper that is weighted on the bottom, and wide enough to not tip over if you step on the side of it. That could easily lead to falls and injuries. The stepper should be heavy enough that it is stable while in use, but not so heavy that it is difficult to move around and put away for storage. Pay attention to customer reviews to make sure its sturdy.
Also, the top of the stepper should have a rubbery, non-slip surface. This is both to prevent injuries and to prevent the sneakers from sliding when it is in use. It is generally a good idea to wear sneakers when doing aerobics, to give the feet and legs more support, but some people choose to go barefoot. Avoid purchasing an aerobic stepper that has a smooth plastic surface, which can be very slippery and dangerous when working out, especially when barefoot.
Finally, a good aerobic stepper should be height adjustable. That way, you can start with the stepper at a lower height to make it easier, and gradually increase the height as you get in better shape to make the exercise more challenging. These are the most important considerations when purchasing a stepper; they come in many different colors as well, which is a matter of personal preference.
FitResidents is reader-supported. When you buy through links on our site, we may earn an affiliate commission. Pricing and availability subject to change.
Our #1 pick is the timeless aerobic Reebok Stepper which remains an integral and immensely popular piece of equipment in the group fitness exercise arena due to its authenticity of bringing out the A game of its users. Popular in gym class, home, and boot camp settings, the Step is often incorporated into choreographed routines to upbeat music. Step aerobics on an elevated platform is one of the most fun, engaging and effective ways to torch calories and burn fat.
While fitness trends will change, the Reebok Step is the trusted workout accessory that stands the test of time. It comes with various heights that makes it easier for users to increase their workouts intensity – 5.9in, 7.87in, or 9.8in. A click and lock design makes it easy to adjust the Step to these heights.
Underneath you'll find the rubber feet which prevent slipping and absorb impact, so you can have complete confidence in your Step burpees and lateral jumps. The raised 'bubble' textured surface provides considerable grip, so you can focus on your form and positioning.
Compared to it's counterparts our #1 pick is Resistant to sweat which is one quality that makes it stand out and the Reebok Step is easy to clean after an intense calorie-burning session. It can be used outdoors for boot camp-style training – just remember to give it a quick wipe down after use.
We highly recommend the use whether at home or in the studio, the Reebok Step is compact and easy to store away when the hard work is done. Its dimensions, when set at the highest 9.8in height are 40 (L) x 15.2 (W) x 9.8 (H) in. With over 1000 reviews on Amazon and being referred to as Perfect and Better than the rest by verified buyers, our pick had proven it's worth.
Total Customers Reviews on Amazon
1,993
Ratings
5 stars – 89%
4 stars – 7%
3 stars – 2%
2 stars – 0%
1 stars – 1%
Main reasons for 5-star reviews
My weight loss tool
Worth the money
Better than the rest
Sturdy
non-slip surface
Reebok original stepper reviews on Amazon
---
Our runner up is the brand new Aerobic Stepper which will be sure to help you keep fit and enjoy your aerobic exercises. This stepper features 3 levels (4″, 6″, 8″) that can be stackable to your preference. It is constructed of durable material, top, and supports up to 550 lbs with impact resistance, which can serve you for a long time. Lightweight and easy to carry, assemble, and convenient to store. It gives you room to challenge your workout with 3 settings of adjustable height (4", 6", 8"), you can raise or lower the height according to your workout intensity. Safety was one of the major points considered during our careful selection of Steppers, with the Platform textured surface being secured, non-slip, and shock-absorbing, help ensure you exercise easily and safely. Also comes with four nonskid feet on each riser to prevent it from sliding during exercise and scratching floors.
With over 3,000 reviews, this is an ideal stepper for those looking to add a new dimension to their daily workouts. Based on our research and customer satisfaction reviews on Amazon, we highly recommend this product to anyone who is just looking for a basic stepper that they will be using to add a new dimension to their routine.
Total Customers Reviews on Amazon
3,363
Ratings
5 stars – 70%
4 stars – 18%
3 stars – 6%
2 stars – 2%
1 stars – 3%
Main reasons for 5-star reviews
Lightweight but still sturdy
Stable
Perfect size for storing
Great customer service
Reviews on Amazon
---
Step up to a total body workout at home with the Tone Fitness Aerobic Stepper. Target glutes and hamstrings with alternating lunges, strengthen the chest and back muscles with adjustable position pushups, and more. This is an ideal tool to help boost your workout routine and help achieve your fitness goals. This aerobic stepper features a secure, non-slip surface for your workout routine. The stepper is adjustable at two height levels: 4 inches and 6 inches. The non-skid feet provide stability and protect floors from getting damaged.
We recommend our budget pick as it's not only pocket friendly but also includes; a workout chart, providing additional instructions and exercises to aid you in your fitness journey. The Tone Fitness Aerobic stepper accommodates users of all fitness levels to help build endurance, strength, and improve overall fitness. Taking safety as a top priority our budget pick offers a Secure, Non-Slip Surface for Your Workout Routine and Is Adjustable for Two Height Levels of 4-Inches or 6-Inches; Non-Skid Feet Provide Stability & Protect Floors; Includes Workout Chart to Provide Additional Instruction & Exercises
With over 6,000 reviews, this is an ideal stepper for anyone who is looking for a simple budget friendly stepper that gets the job done. You might find the other options useful if you are an advance user, as this stepper will only provide you with two height options. If you have never owned a stepper before and are just starting to incorporate step aerobics into your workouts, then we highly recommend this product.
Total Customers Reviews on Amazon
9,534
Ratings
5 stars – 73%
4 stars – 15%
3 stars – 7%
2 stars – 2%
1 stars – 3%
Main reasons for 5-star reviews
Not just for exercise
Supports large weight with stability and security
Great little mini step
Can also be used to help make SUVs and higher trucks handicapped accessible.
Reviews on Amazon
---
Please follow and like us: